Stella: Bedroom Special!
Hi, my dear fashion fairies!
I'm going to show you the secrets to having the most up-to-date bedroom..Just like me!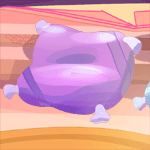 Multicolor pillows!
They have to be crazy comfortable and suuuuuper softso you can lounge on them and chat with your friends.
Plus, there is always a pillow fight at my pyjama parties! 
A glittering tiara!
I always keep it handy… an accessory that makes me magical!
Stellar poufs!
You can get poufs in every shape, size and color and make you room U-NI-QUE! I chose star shapes… can you guess why ;) ?
Animal Luggage!
Big... very big, to contain enough dresses (I need at least 10 at all times!). It's perfect to bring a touch of fashion wherever you travel!
This is only the ground floor, of course…do you want to check out the upstairs? Don't worry Fairies, I'll show you it all in the upcoming weeks! For now,
it's your turn…tell me what makes your bedroom special!
---